Fabric Covered Buildings for Equestrian Use
Equestrian
Tasco Dome is the obvious choice to cover all areas of the equine industry. Riding arenas are the most popular type of equestrian building we manufacture. It's a pleasure to ride year round in a bright and airy Tasco Dome! The open inviting interior is ideal for both horse and rider. Natural light saves you from expensive electricity bills, and eliminates shadows.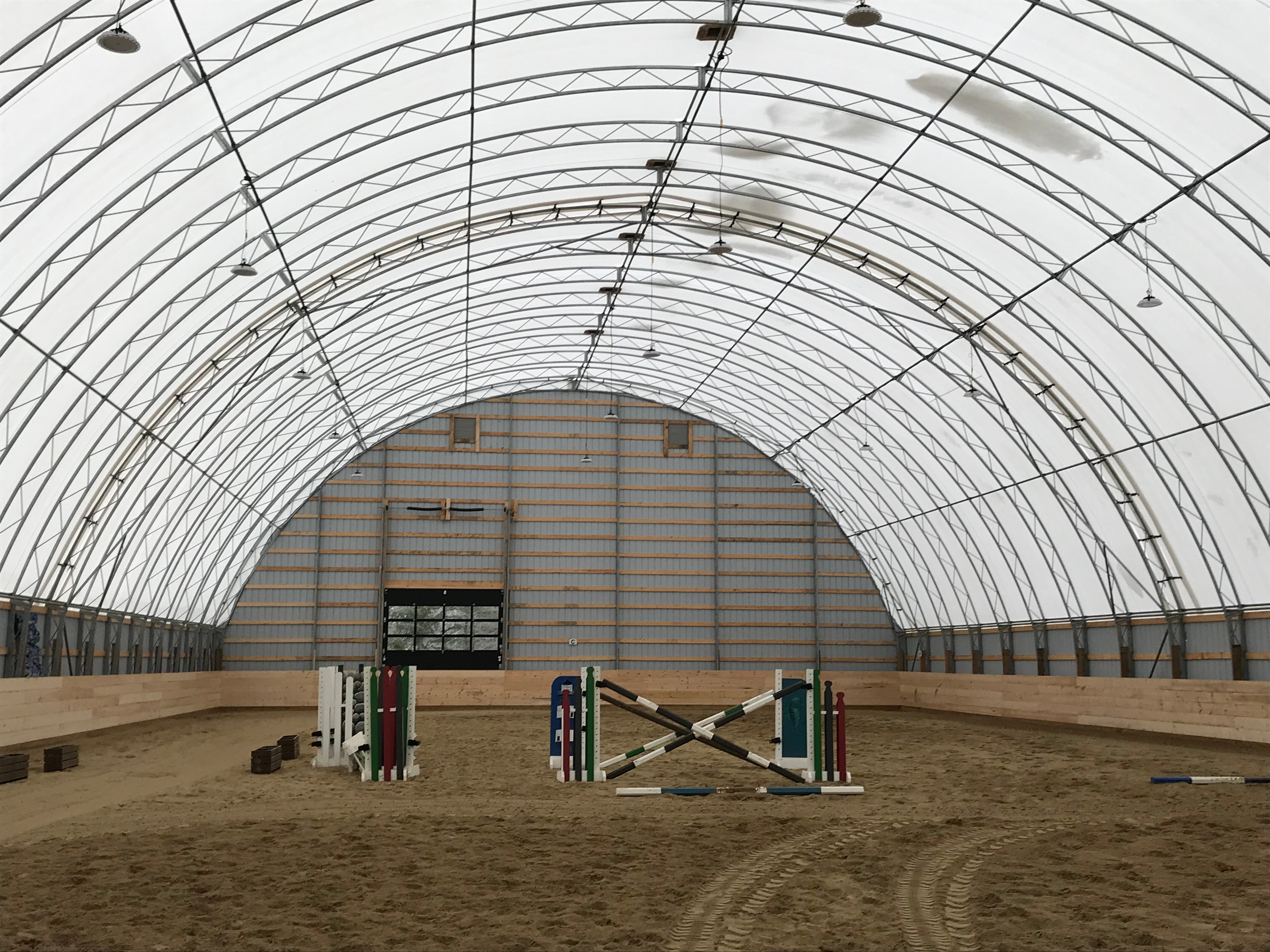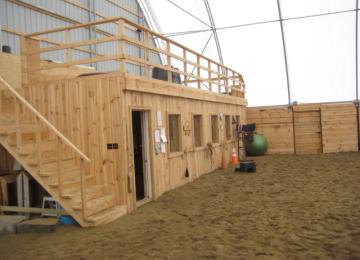 Little Creek Ranch
New Little Creek Ranch near Ottawa, Ontario. Meet the Murray family and see the featured training centre. Hear the story about how they were introduced to the Parelli Natural Horsemanship system. both horse and rider. Natural light saves you from expensive electricity bills, and eliminates shadows.
"We would like to thank Daniel and his crew for a super job done on our 2 Tasco Domes, the service was wonderful, we were offered many options always with a professional opinion, which made our decisions easier. Now we are fully enjoying our riding arena and barn, we thank you for that!!"
- Angèle and Roland Angollys Ranch
A Tasco Dome makes an excellent barn, and is fully customizable for hay storage, stalls, feed and tack rooms. Getting your horses and stalls clean is much easier with the natural light of a fabric covered building. A Tasco Dome promotes a healthy environment for your horses.
Covered racetracks for the Thoroughbred industry are a specialty of Tasco Dome. Get out of the weather and train year round despite what Mother Nature throws at your farm. Covered tracks can be installed on the flat or on a grade to maximize your training program. Large air space with good and clean air flow benefits your equine athlete's health.
Our structures are the highest quality available, giving you peace of mind for your animals. A Tasco Dome's hot dipped galvanized steel structure is corrosion resistant. There are no cross cables or collar ties allowing storage right up to the roof. Square steel tubing provides superior strength to the structure.
Wesley Clover Parks
New Wesley Clover Parks in Ottawa, Ontario. See the featured building and hear the story behind the beautiful facility located in the National Capital Greenbelt
Shirai Farms
Featuring our covered thoroughbred racetrack at Shirai Farms. This 900 meter (2953') racetrack is set on a 4% grade to maximize the workout and fully prepare their horses for the races. Made in North America and shipped worldwide, Tasco Dome Covered Structures provide superior protection for what matters to you!